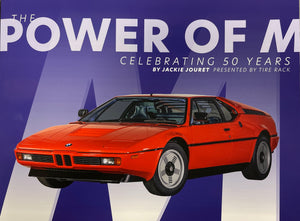 Grab your copy of the official exhibition book for
The Power of M Celebrating 50 Years!


Experience 50 years of the BMW M Motorsport! The Power of M celebrates the people and the cars that have kept BMW in the fore front  Motorsports and high performance vehicles alive and growing for five decades now, with no signs of lifting.  
Famed BMW author and researcher Jackie Jouret interviewed more than 120 influential enthusiasts, CCA members, owners, racers, and builders, and delivers a comprehensive – and compelling – story of the cars and community we all love. 
Gorgeous photography of 25 exhibition cars and one motorcycle
152 pages of people, cars and BMW goodness
This is a high-quality, weighty softcover book, with a thick, satin cover and superior photographic paper. Even the most knowledgeable BMW enthusiast will learn something new...guaranteed. And your purchase will help to support the BMW CCA Foundation and its programs - Street Survival, The Ultimate Driving Museum, and the Archive. Thank you for that!
_________________________________