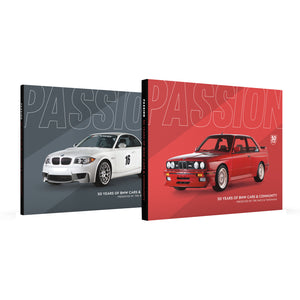 Grab your copy of the official exhibition book for PASSION: 50 Years of BMW Cars & Community!
Experience 50 years of the BMW enthusiast experience in North America, and the 50th birthday of the BMW CCA!
PASSION celebrates the people and the cars that have kept the enthusiast scene alive and growing for five decades now, with no signs of lifting.  
Famed BMW author and researcher Jackie Jouret interviewed more than 120 influential enthusiasts, CCA members, owners, racers, and builders, and delivers a comprehensive – and compelling – story of the cars and community we all love. 
Gorgeous photography of 22 exhibition cars
152 pages of people, cars and BMW goodness
The inside story of the best damn Car Club in the world 
This Hardcopy version includes the same content (as the softcover), surrounded by a unique cover design, housed in a hard-sided slipcover. Only 300 of these will be produced. 

Even the most knowledgeable enthusiast will learn something new about BMW CCA's first five decades. What's more, your donation will support the BMW CCA Foundation and its programs – Street Survival and the Museum & Archive.
See a sample chapter from the book: (to see a larger size click the "Fullscreen" icon in the lower right-hand corner and use the + icon to zoom in)