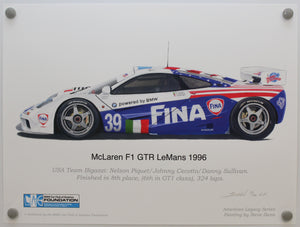 We are back with another print in our American Legacy Series by artist Steve Dunn.
Starting in 2006, the Foundation decided to create a series of prints to celebrate the key BMWs that have raced in the U.S. When we first launched this, we had the McLaren F1 GTR print, but it was a smaller paper size, different font and bordered by a box. The next print was the 3.0CSL, which was in the current paper size of 16" x 12". All prints since then have matched the 3.0CSL.  We decided to rerelease the McLaren F1 GTR in the 16" x 12" format to match the other prints.  Buyers have had the opportunity to get the same numbered print each time they buy in the series.  This set is commissioned by the Foundation and exclusively for the Foundation.

Check out the other prints in this series by Steve Dunn in our store. Some are even autographed by the drivers.
McLaren F1 GTR.
Reprinting from the 1st Print in the BMW CCA Foundation "American Legacy Series".
1996 24 Hours of LeMans car driven by Nelson Piquet, Johnny Cecotto, and Danny Sullivan.
This print is produced from the original painting.  This is not just a computer generated image.
Limited to 100 prints.
16" x 12" Print.
Individually numbered and signed by the artist - Steve Dunn.