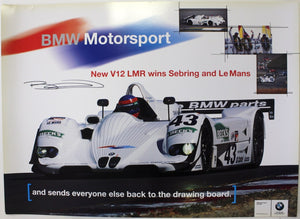 The Foundation is fortunate enough to be able to make contacts with the right people to introduce us to the BMW drivers (both current and past) at various races and events.
BMW Motorsport. New V12 LMR wins Sebring and LeMans (and sends everyone else back to the drawing board).
An original BMW NA produced poster.
Limited quantities available.
Autographed by Bill Auberlen in 2009 or 2010.
Included is a Certificate of Authenticity card.
Approximately 35.5 x 25.5 inches
Size limitations prevent the from shipping First Class.
Please note: each of these posters have some very minor edge damage.  These had been shipped back and forth to get signed.  The damage should all disappear when framed.