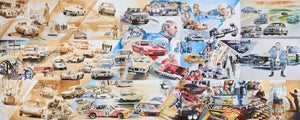 1:4 scale print measuring 48" x 18"
Blue Hero", a project by Romanian artist Adrian Mitu, was unveiled in Bucharest in the presence of Jochen Neerpasch. The art project follows Neerpasch's career in motorsport, his influence on brands such as BMW and his ties with other emblematic motorsport heroes such as Niki Lauda,Nelson Piquet, Michael Schumacher, AyrtonSenna and Alain Prost.
Bucharest."Blue Hero" is the result of a two-year endeavor of artist Adrian Mitu, a journey to create an art installation picturing the special history of BMW. In preparation of this project, Adrian Mitu originally created "Blue Coffee", a live painting marathon of 101 paintings done in watercolor, dedicated to the 100th anniversary of the brand. It was both an exercise of storytelling and an exploration of BMW's history."Blue Coffee", the title of the project, referred to an association between "blue", BMW's defining color, and coffee which, in this instance, was a special pigment Mitu used in combination with his watercolors.
The"Blue Hero" installation now is an evolutionary step in Adrian Mitu's art.The name was inspired by the first project, but this time highlights one single defining figure for the BMW brand – Jochen Neerpasch.